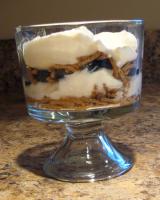 Blueberries are a powerhouse of nutrition! They are packed with vitamins, minerals, and awesome antioxidants that positively affect the aging process. This parfait is high in fiber, natural carbohydrates, and dairy protein
5 min 5 min prep


3/4 cup nonfat plain yogurt
1/4 cup fresh blueberries
1/4 cup all-bran cereal (I like the added fiber kind)
Splenda sugar substitute, to taste (optional)
cinnamon, to taste (optional)


1. Layer the ingredients to your preference, or mix them all up together.
2. Enjoy in good health!