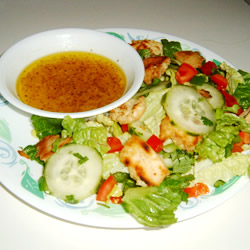 "Great light salad of an Eastern-Mediterranean flavor, with crunchy pita chips. Big favorite! I learned it from some Lebanese friends. After I tasted it, I needed to keep it."

INGREDIENTS

# 3 pita rounds, torn into pieces
# oil for frying
# 2 cups torn romaine lettuce
# 2 tomatoes, chopped
# 2 small cucumbers, peeled and diced
# 1 green bell pepper, chopped
# 3 green onions, minced
# 15 fresh mint leaves, chopped
# 1/4 cup chopped fresh parsley
# 1 teaspoon cilantro

# Dressing:
# 1/4 cup lemon juice
# 2 teaspoons white wine vinegar
# 1 pinch salt
# 1/2 teaspoon lemon pepper
# 1/2 teaspoon dried onion flakes
# 1 pinch celery salt
# 1 pinch garlic powder
# 1/4 cup olive oil
DIRECTIONS

1. Heat oil in a large skillet over medium-high heat. Place pita pieces into the skillet without crowding. Fry in batches until browned; then remove to paper towels.
2. Place romaine lettuce, tomatoes, cucumbers, bell pepper, green onions, mint leaves, parsley, and cilantro into a large bowl.
3. Pour lemon juice and white wine vinegar into a small bowl. Season with salt, lemon pepper, onion flakes, celery salt, and garlic powder. Stir in olive oil.
4. Gently toss salad with fried pita pieces and dressing. Adjust seasonings to taste, and serve.