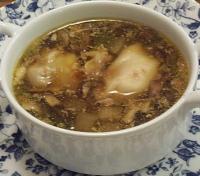 Ah, the comforting feeling of a big pot of chicken and dumplings on the stove! Enjoy an Asian twist with a lighter sweet and sour style broth and dim sum dumplings. Easy to make and flavorful!-
1 chicken, cut up (buy the eight piece chicken in your grocery store meat department)

1 (14 1/2 ounce) can fat free chicken broth

2 carrots, peeled and shredded

3 cups bok choy (spinach or cabbage also work)

1 white onion, chopped

1/2 tablespoon red pepper flakes

1 tablespoon ginger, grated

1 tablespoon chicken bouillon powder

1 tablespoon garlic, chopped

4 tablespoons reduced sodium soy sauce

2 tablespoons vinegar (rice vinegar preferred)

1 tablespoon sesame oil

Add last
1 cup sliced mushrooms (I used large dried Asian mushrooms soaked overnight)
1/4 cup green onions, chopped
2 tablespoons brown sugar
1 (21 ounce) package pot stickers, frozen (about 30 pieces)

1. In a large soup pot, combine all ingredients in "add first" category.
2. Add enough water to cover chicken and heat on high burner setting until boiling; reduce heat, cover and simmer for one hour (leaving it on longer, up to an additional hour, is fine.).
3. Remove chicken pieces from pot and add "add last" ingredients.
4. Strip chicken off the bones; discard skin and bones and return chicken meat to soup pot.
5. Cook uncovered over medium heat 15 minutes and serve hot.