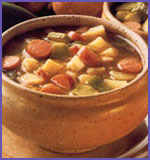 "This is an Arabic vegetable stew made in layers and served with steamed rice or bulgur. My Damascene sister in law recently showed me how to make this. It is delicious. The addition of ghee or rendered butter at the end of the cooking is a traditional Damascene style of cooking; however, these days these dishes are made without the extra fat."
BY: Almalou

INGREDIENTS

* 1 tablespoon ghee (clarified butter)
* 1 pound lamb meat, cut into small pieces
* 1/2 teaspoon ground allspice
* 1/4 teaspoon ground cinnamon
* 1/8 teaspoon ground cloves
* 1/8 teaspoon ground nutmeg
* 1 pinch ground cardamom
* 2 onions, sliced
* 1 potato, peeled and sliced
* 1 pound eggplant, peeled and cubed
* 1 pound zucchini, thickly sliced
* 2 pounds tomatoes, cubed
* 1 chile pepper, chopped
* salt to taste
* 1 tablespoon tomato paste
* 1/4 cup water
* 6 cloves garlic
* salt to taste
* 3 tablespoons dried mint

DIRECTIONS

1. Heat the ghee in a large pot over medium heat. Place the lamb meat in the pot, and cook until evenly brown. Season with allspice, cinnamon, cloves, nutmeg, and cardamom.
2. Place a layer of onion on top of the lamb in the pot, followed by layers of potato, eggplant, zucchini, and tomatoes. Do not stir. Place the chile pepper in the center of the vegetables. Season with salt. Mix the tomato paste and water, and pour over the vegetables. Bring to a boil, reduce heat to low, and simmer 1 hour, until vegetables are tender.
3. With a mortar and pestle, crush together the garlic, salt, and mint. Mix with 2 tablespoons of liquid from the pot, and pour over ingredients in pot. When removing the mixture to the serving dish - a fairly open or wide bowl - tip the pot and let it slide out the side so that it stays in the layers.