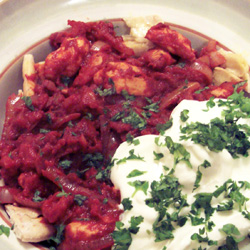 BY: GATOULA
"I tried this dish at a Turkish restaurant in London and was amazed by its delicious taste! I later found out that this dish was named after Alexander the Great, whom the Persians called 'Iskender.' Apparently it was his favourite food."

INGREDIENTS

* 4 pita bread rounds
* 1 tablespoon olive oil
* 4 skinless, boneless chicken breast halves - chopped
* 2 medium onion, chopped
* 1 clove garlic, minced
* 1 (10.75 ounce) can tomato puree
* ground cumin to taste
* salt to taste
* ground black pepper to taste
* 1/2 cup butter, melted
* 1 cup Greek yogurt
* 1/4 cup chopped fresh parsley

DIRECTIONS

1. Preheat oven to 350 degrees F (175 degrees C). Arrange pita bread on a baking sheet, and lightly toast in the oven. Cut pita bread into bite-size pieces, and keep warm.
2. Heat the olive oil in a skillet over medium heat. Stir in the chicken, onion, and garlic, and cook until chicken juices run clear. Mix in tomato puree. Season with cumin, salt, and pepper. Continue cooking 10 minutes.
3. Arrange pita pieces in a serving dish. Drizzle with butter, and top with the chicken mixture. Garnish with yogurt and parsley to serve.